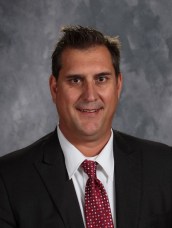 Tim Moore
GMS Assistant Principal
816-316-5600
Mr. Moore has been an assistant principal at Grandview Middle School since 2001. Prior to that he was a social studies teacher at Martin City K-8. Mr. Moore has been married for 24 years to his wife Lisa and has two awesome kids. Jacob is a graduate of the University of Missouri and is currently enrolled in medical school. Trenton is a junior in high school and hopes to attend Stanford upon graduation.
Prior to coming to the Grandview C-4 School District Mr. Moore was a social studies teacher in the Independence School District. During his time in Independence Mr. Moore earned a National Board Certification in Social Studies. He earned his undergraduate degree from the University of Central Missouri and a Specialist degree in Educational Leadership from the University of Missouri Kansas City.

Mr. Moore loves Grandview Middle School and looks forward to the start of every year! It affords him an opportunity to forge relationships with students and parents, collaborate with teachers and staff to make Grandview Middle School the best in Missouri!
Marcellena Goore
GMS Assistant Principal
816-316-5600
Marcellena Gore has been in the district for ten years, she has been an assistant principal at Grandview Middle School for the past eight years and was the Coordinator of Instruction for two years. She and her family moved to Kansas City ten years ago from Cleveland, Ohio. Her work experiences include being a former elementary teacher, middle school science teacher, instructional coach, and building supervisor of instruction.
She holds a bachelor's degree in elementary education and a master's degree in educational administration. She is currently working on an Ed. Specialist degree with a superintendents' endorsement. She is married to James E Gore, Esq. They have a 14-year-old son who will be a freshman at Staley High School in the fall.